YES...HUUUGE American Bill Money News!!!
ABM is going to a 1UP comp plan starting Aug 1st. Everyone's first person will go to sponsor at $75 Month residual. After that all personals will be $75 monthly residual for you instead of $25. All 1UPs will go to you to infinity at $75 month residual. Much better for new people to get in profit. Just 2 people after pass up pays your autoship. More details coming. New postcard below. The best home biz just keeps getting better. Not on the website until Aug 1st. NEW Postcard Below.
New 1UP info not on the company website yet. http://www.ABM3256.com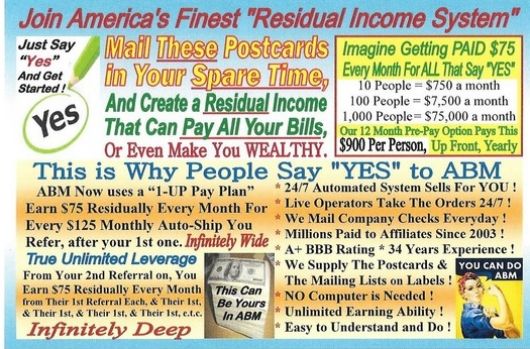 Get A FREE COPY Of - Think and Grow Rich - original 1937 version by Napoleon Hill. (eBook) Click the RED BUTTON Below.
On the next page click on EXTRAS then Personal Development
CLICK AND SEE THE BENEFITS NOW

ABM WORKS... Here's Proof My Kitchen Table Full Of Pay Stubs... This is for 2014, 2016 and 2016.

American Bill Money
Heavy Hitters Plan
Now Pays $900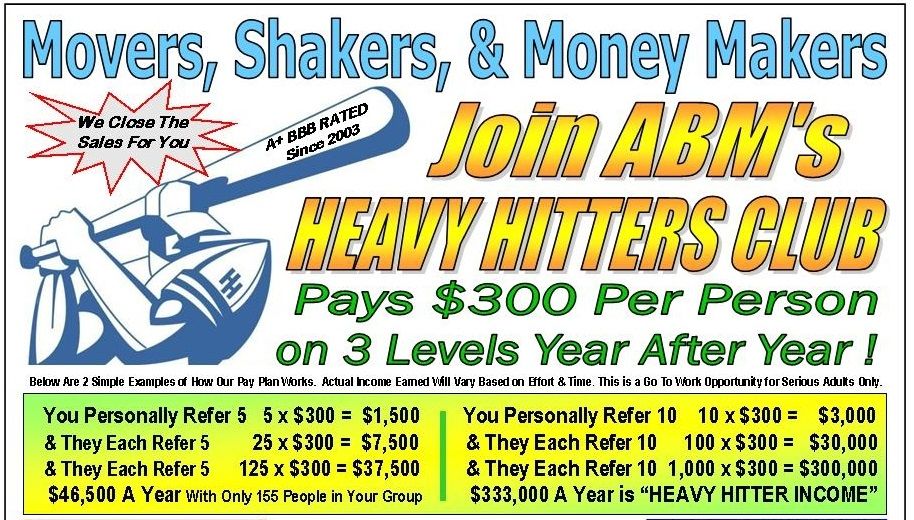 BEST OPTION Pre-Pay Members Get 3200 Extra Postcards & No Autoship. This is a great deal for serious people. You get 5000 customized postcards with your name and ID# printed on. Also you receive 1800 leads on labels. Click banner above for info. Scroll down to Pre-Pay Option. Join me on the Pre-Pay Option a one time $1500 for a years membership and I'll mail you an extra 1000 Leads on labels.
$900 Fast Start Check Paid Next Day on Pre-pay Members If Qualified
LISTEN TO RECORDED MESSAGES AT BOTTOM OF THE ABM OFFICIAL WEBSITE FOR COMPLETE DETAILS
ABM Is A Proven System To Help You
You Can Succeed From Home, With No More Guesswork!
Simple! Mail Postcards - Make Money
Company Takes Calls Closes sales
CLICK HERE To See Our FREE Online System
ABM A Real "Business In A Box"Leads & Cards Included
$900, $75 Fast Start Checks Paid Daily
$75/MO Residual Checks Paid Every Friday
Promote ABM Online for Huge Income
CLICK AND SEE THE BENEFITS NOW

This Is a Huge Opportunity for Serious Online Marketers Too! You make money mailing postcards. Serious residual income with "Making Money Mailing Postcards". Yes, postcards to wealth.
I'm Jack Cupp with my Wife Olivia

My hobby is flying and building experimental airplanes.
QUESTION? Contact me on the next page